Blogs
All about beautiful living
Gems Group Brings You One of the Finest Upcoming Residential Projects in Joka
3 December, 2020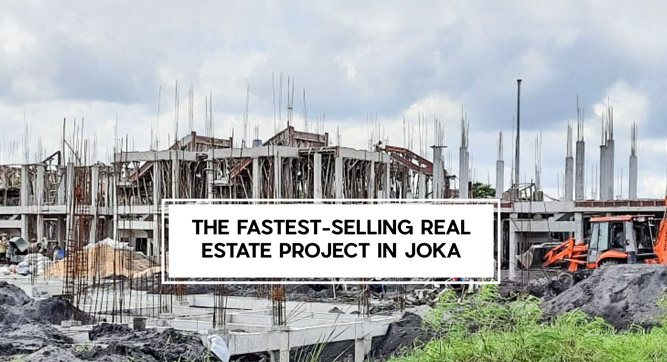 Gems Group offers us the most in-demand residential project in Joka – Gems City. It is a beautiful gated community built on a land of 135 acres that offers affordable living to all.
The fastest-selling record speaks for its unparalleled infrastructure and magnificence. Since 2018, Gems City has sold over 1200 apartments that include 1BHK, 2BHK and 3BHK variants. The Gems City bungalows are the project's prime aspect as a selling record of 500 units is recorded to date. These are some of the most affordable bungalows in South Kolkata.
A glimpse at the developer – Gems Group
The Gems Group is owned by one of Kolkata's reputed business houses with over 40 years of experience in coal and mining trading. The group makes its entry to the world of real estate with its ambitious young leader, Lalit Bhutoria. His pursuits into the education sector along with affordable housing have marked his remarkable journey. Eventually, he wants to pave his way to the healthcare sector.
With Gems City, the group aims to generate quality infrastructure that offers an experience of beautiful living with affordability. Let us have a look at some of the most alluring aspects of Gems City that helped to achieve such an outstanding selling record for a real estate debutant:
Affordable housing
The Gems Group has successfully achieved a milestone by offering all the necessary amenities required for comfortable living at an affordable price range. Its apartments starting at just 12 Lakh are one of the most alluring living options in South Kolkata. Gems City is also known for its budget-friendly bungalows. The beautiful bungalows offer you the lifestyle you always aspired for starting at only 45 lakh. Affordability is one of the key factors of the ever-rising demand for the project.
Prime locality
Joka is one of the fastest developing areas in Kolkata. Over the last few years, Joka has become more popular by offering affordable living and rapid urbanization. The Joka Metro is about to be inaugurated in September 2021. As a result, people across the country have rushed to book their home in Gems City so as to avoid a rise in price later. Considering the current rate of urbanization in Joka, the present affordable rate is most likely to increase with every passing year.
Living close to nature
In the era of materialization, we have been going away from nature. The number of fields, gardens, parks and playgrounds are depleting every year. Most of the standalone apartments lack playgrounds which restrict the physical growth of our children as they are restricted within the confines of the apartment. But in Gems City things are different as it offers a beautiful living of 50 acres with 65% greenery which includes:
-Grand open spaces
-Landscaped gardens with herbs and weeds
-Multiple parks, playgrounds, and fields
-Party lawn with barbeque area
-Open-air amphitheatre
Residing in such an open space has become more of a necessity rather than a luxury during the state of the current pandemic. As experts believe, living in open spaces also improves respiratory organs of the residents and also provides various other health benefits.
Convenient living
There are 50 reasons why Gems City is the best residential project to live in Kolkata. In addition to these, there are several other necessary factors for which you do not have to go out of the campus frequently. Let us have a look at some of the key factors that make daily living convenient at Gems City:
-On-call security, doctor, plumber and carpenter
-In-house dietician
-Multiple convenience stores
-Exclusive unadulterated fruits/vegetables and dairy outlet
-24-hour filtered water supply
-Adequate parking for visitors
-Stand-generator for every apartment
-Exclusive AC bus service to the residents and their guests
-In-house bank along with ATM
-Laundry facility

Apart from the above facilities, there is a renowned school affiliated under ICSE board with a 20-acre dedicated campus within the premises –50 reasons Gems Akademia International School. The school was established in 2011 and is among the most sought after schools in Kolkata.

Hence, apart from the above reasons, there is an endless list of reasons why Gems Group has become a successful real estate builder with its introduction of Gems City in Joka.

You Might Like...

24 November, 2023

When considering where to put your money, the options are plentiful...more

26 October, 2023

D-Day has begun, where 'D' stands for Delivery! Gems City has embarked on the journey....more