Blogs
All about beautiful living
Space Saver Furniture Ideas for Your Home
28 August, 2021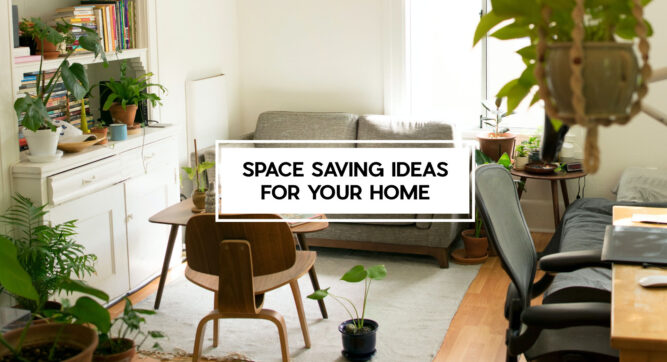 If you already have a home in a metropolitan city like Kolkata, you must be living in the most happening place in India. From groceries to food markets, everything can be easily accessible within your vicinity. Perhaps the only painful crisis that arises is due to space crunch. So, if you are planning to relocate or have an excess of furniture that eats up the space within your home, all you need to do is to apply some space saver furniture ideas at your home.
The trend of space-saving furniture has evolved in the past decade like nothing else. By gathering the views of expert interior home decorators across the world, we have made a list of some furniture ideas that not only save space at home but also offer easy living. Let's have a glance:
Upholstered beds with Storage
Perhaps the most widely accepted trend in the furniture industry is an upholstered bed with storage. It gives your bedroom an elegant look that cannot be resisted. Moreover, an upholstered bed with storage fits your stuff under the bed without having a problem with the dust. You may store not so daily used items like winter blankets, extra pillows, bags or even some of your extra clothes. In this manner, you get to hide the mess which would have been visible otherwise.
Sofa-cum-bed for the Living Area
The living area gives the first impression of your home to your visitors. Hence, having the right furniture is essential here. Having a three-seater sofa-cum-bed is mandatory to use your living space to the optimum level. It serves the purpose to welcome guests that offer you a visit for a short duration. Moreover, it acts as a full queen size bed to accommodate two adults with a child when you have to give away your room to your overnight guests or relatives.
a school and tuition facility within the community
Trundle bed – a must for your children
If you have one room to offer to both of your kids, a trundle bed is a must for them. It is specially designed for the optimum use of space in a bedroom. In this way, they can easily use the rest of the space in their room as their study area or even some room to play. However, if you decide to live in Gems City, your children will have more than one reason to live a happy life within the community. As a result, it is known as one of the most popular child-friendly living communities in Kolkata.
Sofa with storage
There can be a lot of comfort even in living in a 1 BHK apartment. It only depends on how you utilize your space for storage. One such better way of storage is to install a sofa with a storage facility for the singles. Nowadays, sofas come with easily manageable organizers and the latest kind of drawers built in them that are extremely good space-savers. One can easily use them for the storage of extra items that are not regularly used.
Dining tables with nested stools
A dining table that comes with nested stools is a huge space saver and also bliss. It adds to the beauty of your apartment. A low height dining table can also serve the purpose of a tea table if one has none. It not only saves extra space taken up by the huge chairs but also reduces the chances of keeping other useful items in that occupied space.
Under the sink racks
The space below the sink in a 1 BHK can also provide a better storage spot. It can be used to fit in wire racks where one can arrange their cleaning supplies and other daily used cleaning products like brushes, dusters etc. Generally, wire racks that can easily fit in two rows are a good choice to buy so as to use the space below the sink to the fullest.
Shoe rack with resting top
People often face hassle in tying shoelaces while upright. So, having a resting place to wear shoes makes living much easier and comfortable. Therefore, it is a must to opt for compact shoe racks that have a resting top saving space and giving a great look. Besides, your guests can use them quite comfortably by using such a resting place at your home's entry while putting on their shoes.
You Might Like...
24 November, 2023

When considering where to put your money, the options are plentiful...more

26 October, 2023

D-Day has begun, where 'D' stands for Delivery! Gems City has embarked on the journey....more