Blogs
All about beautiful living
Living next door to a great school
17 December, 2019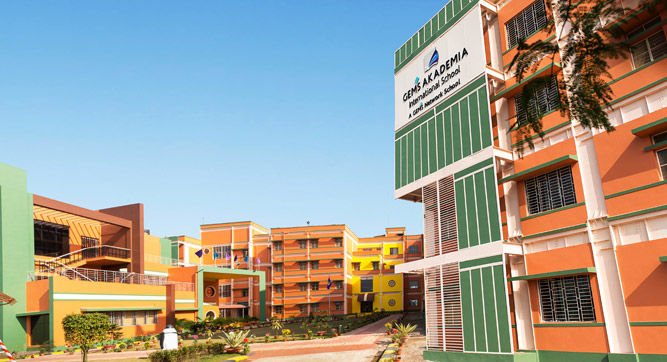 Buying property near school for a living, especially if it is a beautiful living community of about 50 acres of land under the most affordable budget is nothing but a dream come true. Such a "dream come true" living is the Gems City community that stands as the most in-demand residential project in Joka, South Kolkata. It is a great housing project in South Kolkata that holds low-budget flats with various convenient facilities for sustenance.
One of the most striking facilities provided by Gems City is the magnificent Gems Akademia International School that is structured within the campus of Gems City itself. As people can avail either of 1, 2 or 3 BHK flats and even Bungalows as per their preference, a school within the residential complex in South Kolkata makes living more feasible.
There are some salient reasons to prove why buying a house next to a school as in Gems City is worthy:
20-acre school campus
Such a vast area houses both the buildings and provision for outdoor games that can make one grow unbounded in refreshing open spaces that are otherwise tuff to find in cities. There are football and cricket grounds, multiple basket courts, multipurpose arena and multiple tennis courts where young adults can grow and get nourished. Also, the building has got provision for indoor games that act as a saviour when the weather is harsh. In the indoor games room, games like carom, badminton, chess, table tennis etc are played.
Comfortable socializing lifestyle
The school helps students to socialize and catch-up with other friends, family and neighbours during several programmes. It also has open zones where inter-school competitions, debating, communication, cultural associations and community development can be strongly undertaken.
Premium clubbing lifestyle

There are two Opals Restaurants where students can easily socialize, hang out at the open terrace of the club and enjoy the beautiful view of the vast expanse and greenery of Gems City. Some core club facilities include – tennis courts, badminton courts, multi air-conditioned multi-gyms with steam rooms, library, yoga and meditation rooms, community theatre, pool tables, and exclusive adda zones and so on that enriches the students with profound activeness and coordination.
Living within the nature

A healthy and beautiful lifestyle encourages through living within the nature. The school provides jogging and cycling tracks and also places where morning and evening walks can make one energetic and catch-up with their neighbours. Living near the school with such advantages acts as a stress buster within itself.
Convenience in travelling to the school

This is probably the richest reason for staying in your home with Gems Akademia International School within your sight. The students enjoy the exclusive privilege of walking a few yards to their school without any hassle or traffic problems. It saves them from running late and also acts as a cure in case of any misfortunate event such as a road accident. Also, they can borrow help from school library even if they are unwell and have not been to school.
Flexibility with school schedule
Kids staying close to the school often enjoy a stress-free life and are mediated to keep up with their academics. They do not have the tendency of forgetting things owing to long distance travelling. They can also recover their left-out items from the school and ca simply return if anything is brought by mistake. Additionally, as they stay within the proximity of their guardians, so they are much safer.
In-house crèche facility
A marking challenge for the working parents is much curved down by the in-house crèche facility in Gems City. Parents who often get late of students who have accidentally forgotten their home keys can stay here for a quite while without any safety issues. Families with both working parents get benefitted as they know their child is in safe hands.
Beautifully designed campus
The classrooms in GEMS Akademia International School (GAIS) come with smart board teaching, use of projectors and internet connectivity along with separate science laboratories with proper management and superior infrastructure. Children are taught about self-discipline, self-help and there are separate rooms for other cultural and wellness activities. They also enjoy the delightful atmosphere of the hygienic dining hall, cafeteria and so on. The campus also hosts provisions of indoor and outdoor games as mentioned before.
Academic structure
The school is affiliated with the Cambridge International Examination (CIE) and Council for the Indian School Certificate Examinations (CISCE), New Delhi. The students get to choose any of these two curriculums. Children aged between 2-5 years get pre-schooling advantages with play-based and child-centered curriculum activities. The school prepares its students to appear of the ICSE and ISC examinations at the end of grade X and XII respectively. The school also encourages some extracurricular activities such as playing instruments, performing art and dance, calligraphy, clay modeling, origami and so on.
In short, Gems City property sale is of gold value. Living next door to such a great school is an opportunity that everyone dreams of. Getting such low budget flats in Kolkata that houses a famous school – GEMS Akademia International School (GAIS) is a once in a lifetime opportunity. Established in 2009, it is a world-class school with branches in 151 countries. The co-ed facility of the school does not discriminate on caste, creed, colour or religion. One can easily avail their child's preliminary development right from the age of just 2 years. On every level, an aptitude test is conducted to cross-check the proficiency of each student.
Furthermore, there are separate hostel facilities and air-conditioned rooms with separate cupboards and study spaces. It, therefore, meets every expectation one can claim for their child's development.
Also, Gems City is the only residential project in South Kolkata, let alone the entire country to have such a great school within its own campus. So, if you are planning to buy a flat in Thakurpukur area, Gems City is the best choice for you and your family.
You Might Like...
24 November, 2023

When considering where to put your money, the options are plentiful...more

26 October, 2023

D-Day has begun, where 'D' stands for Delivery! Gems City has embarked on the journey....more