Blogs
All about beautiful living
Embellish Your Home for a Delightful Diwali| Gems City
22 October, 2020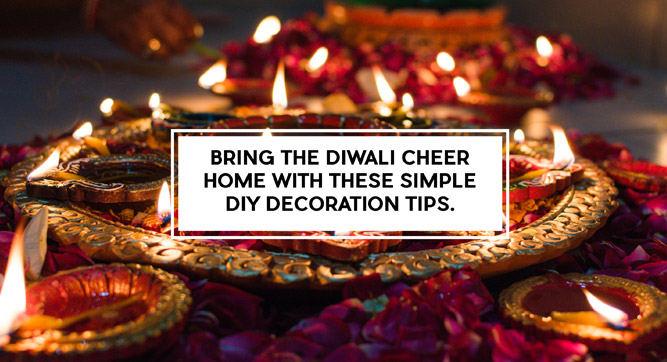 Every festive season comes with its beautiful colour filled with joy and happiness. The festival of lights – Diwali is not an exception. It is one of the grandest festivals in India commemorated to mark harmony and joy. The pandemic outbreak might have restricted us to have a gathering with our close ones but on the other hand, has allowed us to provide our homes with beautiful makeovers.
There may be entry restrictions in Kali puja pandals this year but it should not hinder our hearts to soak in the spirit of Diwali. Let us have a look at various simple yet beautiful home makeover ideas for this stay-at-home festive season.
Cleaning and sanitizing your house
Before the commencement of any auspicious festival like Diwali it is mandatory to clean up your space. This foremost step has become more compulsory as we all will be spending most of the day indoors this Diwali due to the outdoor restrictions. Get rid of the cobwebs and dust on furniture, wall corners and any corner of the space. Sanitize the floor, carpet and cushions to get rid of unwanted germs in the house. You can also clean up the old clutter of clothes from the wardrobe. For many Indian homes, this time of the year is the customary cleaning period. Moreover, the pandemic has made it more compulsory this year.
Spruce up the entrance
As it is said by Vastu experts, the main door is the gateway through positivity enters the home. Hence, during a festival like Diwali, it is of utmost importance to have the gateway of our home cleaned and decorated with lights. Make sure to have enough light at the doorstep of your house to welcome positive vibes into the house. In case you do not have a ceiling light there, you can introduce a standing lamp to brighten up the gateway. After lightening up the entrance, make sure to place God Ganesh's idol or wall hangings so as to restrict evil energy to infiltrate you home. It is okay if you already have any other god already placed there for the same purpose.
Decorate with Diyas and Rangoli
It is perhaps the most fundamental part of the festival. Without diya lights and rangoli (colour design on floor) Diwali is never complete. Choose the best-fit space of your home to design a rangoli. Make sure to custom the size of your rangoli as per the space available at the chosen corner for rangoli. Check out some creative rangoli designs and pick up as per your choice. You may also enhance the beauty of your rangoli with diyas around to fit in with your design. Also, have some diyas placed in your balcony. But make sure to keep them away from places where there can be probabilities of catching fire as we all would want to have a safe festive season. Such rangoli coupled up with diyas can mark the entrance of prosperity and success.
Desk up the Puja room
The puja room is the most sacred space in your house to start off your Diwali home décor. Hanging a Diwali special toran in the puja room is considered auspicious and also embellishes the space from the decoration perspective. There are various colourful torans made with plastic, coconut and mango leaves and also pearl-beaded varieties. Such hanging torans can give your puja room the perfect makeover for Diwali. Wreaths and garlands made of marigold flowers can also enhance the beauty of your puja room. Other flowers of your preference can also be used to beautify the worship space in your house. Moreover, you can install some temporary lights on the in-house temple to go with the occasion.
Use home fragrance
Be it Diwali or any other occasion, a quality home fragrance will give your house an instant uplift. There is a variety of fragrance you can choose among. Be it quiet woods, sandalwoods, lavender or bold floral, a nice home fragrance can surely uplift your mood for a perfect Diwali home décor. Such fragrances can be available in the local market as well as on online stores. However, it is always advisable to purchase such products from physical stores as you get to test them before buying. You can opt for reed diffusers as well as for fragrance candles as per your wish.
You Might Like...
24 November, 2023

When considering where to put your money, the options are plentiful...more

26 October, 2023

D-Day has begun, where 'D' stands for Delivery! Gems City has embarked on the journey....more