Blogs
All about beautiful living
Enhance your lifestyle by living in a Gems City Bungalow
21 November, 2019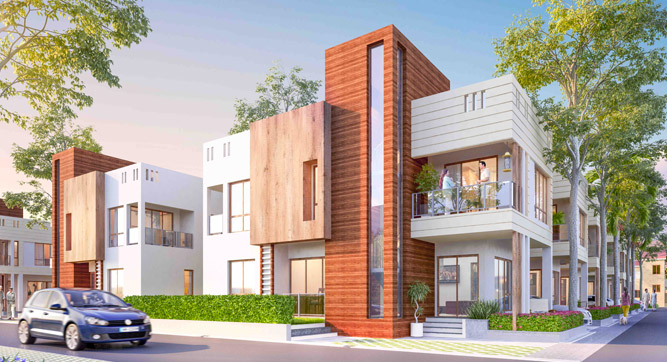 Bungalows are the epitome of aspirational living in India. Many of us feed a desire to live in a bungalow with supremacy. However, mainly due to budget constraints, homebuyers tend to bury their wishes. Now is the time to fulfill your dream to own a bungalow in South Kolkata within your budget. All thanks to the Gems Group, an ambitious real estate developer in Kolkata.
Gems City brings to you exquisite bungalows at the price of a 2BHK apartment in South Kolkata. It is not only the price factor that makes the bungalows tantalizing. Let us have a glance at the most appealing reasons to own a bungalow in Gems City.
Open and spacious design
The bungalows in Gems City are designed in such a way that it feels airy and sunny at every corner. The spacious rooms are designed to meet all your requirements. Unlike any ordinary apartment which is usually more tightly designed, bungalows at Gems City give you the comfort and peace you want. The beautifully designed open terrace and patios on these bungalows make them more praiseworthy.
Family-friendly neighbourhood
No matter how young or elder member you have in your family, there are enough reasons to live in one of these bungalows. There are attached bathrooms in every bedroom making them easier to use for the elder members of the family. On the other hand, there is ample space in and around the house four the young ones to enjoy. Outdoor activities abound at Gems City; with jogging parks, athletes' running tracks, tennis and basketball courts, exclusive play areas for children and many more outdoor facilities for fun and games.
Privacy with 24/7 security
Bungalows at Gems City are far from the crowded and noisy city center – this gives you the privacy and tranquil atmosphere you want for your family. Further, Gems City bungalows are made to keep your family safe while offering the privacy that your family requires. The entire campus is under round-the-clock CCTV surveillance along with security guards who are just a call away via the intercom, which is easily accessible via your landline phone.
Essential amenities and emergency services
The amenities in the campus of Gems City make the bungalows even more unique in every aspect. Owning a bungalow in Gems City, Joka, brings to you many alluring amenities like Crèche facility, a clubhouse, open play grounds, in-campus school for children and many more. You can even host your guests with hospitality in the guest rooms of Gems City. There are 50 reasons why life is beautiful at Gems City. Apart from the alluring amenities, there are facilities of emergency services like:
– On-call plumber and electrician
– On-call carpenter
– Pest-control service
– On-call doctor, dietician and ambulance
– On-call security
Location
Enjoy the convenience of a well-connected location at Gems City. Situated in Joka, South Kolkata, Gems City offers you the locality benefit more than any other residential bungalow in Kolkata. It has easy routes connecting to popular areas like Joka Metro Station, Thakurpukur Metro Station, Tollygunge Metro Station, Behala Chowrasta, Taratala crossing, Majerhat Railway Station and so on. For the affordable living segment, Joka seems to have become a favourite location. The rapid expansion of the place makes it the right time to own a residential bungalow at the lowest price ever in Kolkata. Hence, if you are looking for a bungalow in South Kolkata, Gems City is the right choice for you.
You Might Like...
24 November, 2023

When considering where to put your money, the options are plentiful...more

26 October, 2023

D-Day has begun, where 'D' stands for Delivery! Gems City has embarked on the journey....more