Blogs
All about beautiful living
DIY Gardening in Gems City Bungalow: Build Your Own Paradise
29 March, 2020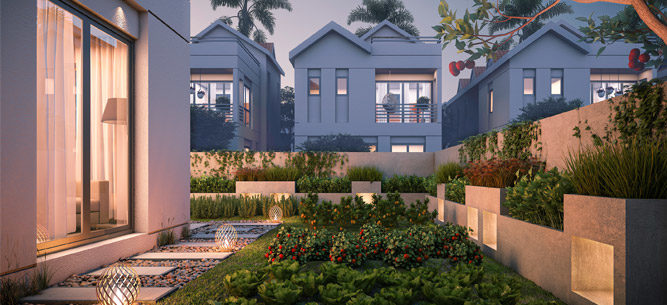 Who doesn't know that a small patch of green is a blessing in the middle of a concrete jungle? Fortunate are those who can manage to have this green paradise which acts a breather in the midst of the hustle and bustle of city life. Those who live in Kolkata will agree that owning a bungalow is a major advantage and blessing. But what if we tell you that you can indulge in DIY (do it yourself) gardening in Gems City bungalow? Here are some ideas.
Main your own garden with great ease
Most of us are either scared with the huge amount of work involved with gardening or find it too expensive to indulge in. But, what if we tell you that you neither have to break your back or your bank to create your own garden in Gems City bungalow? Among the few bungalow projects in Kolkata, Gems City is known for its vast expanse of green. Utilize it judiciously and indulge in a DIY gardening project.
Create an allotment patch
You don't have to start big; you can start with an allotted patch and flex your green thumb. Even the smallest of spaces can surprise you. Corner off a space, prepare the soil and start your own kitchen garden. Be a part of the organic trend and grow your own veggies. You will have your own supply of delicious fresh vegetables which will save a lot of money in the long run.
Seed it with care
Eat your fruits and veggies but don't throw the seeds away. You can store the seeds for planting them later. Use tic-tac containers to store seeds of tomato, chilies, cucumber, cilantro and dill. Store them in a cool place and use them when the planting season starts. Did you know that your used egg cartons can act as seed trays as well?
Do a bit of landscaping
When you decided to have a bungalow at Gems City, you must have thought about the mood of your home. You have carefully planned the interiors to understand what will look best for your homes and choose your accessories accordingly. Same goes for the DIY gardening project. A bit of landscaping will set the mood of your exteriors.
Decide on a color scheme. Choosing white and grey shades in a random design give away the flair of French design. If you want to be sleek and contemporary you can go for either silver or black. Black offers a perfect backdrop for greenery and colorful pots. The depth of this color is simply magical and can transform a place within minutes. But don't forget to add some colorful pots or pebbles to break the monotony.
Always recycle and repurpose
Among all the bungalows in Kolkata, Gems City Joka bungalow gives you the unique opportunity to stay connected to your green space. You should also do your bit by repurposing your old stuff like cans and creating planters out of them. 
Use the spare marble or granite slabs that have not been used inside the house, dye the surface or keep it as it is and create an attractive finish. You can also create a bird feeder or a small pond and include it in the garden. This is your chance to be sustainable and make a difference to the environment.
If you are in love with green and looking for a better and healthier alternative for you and your children, look out for bungalows in Kolkata for sale. Gems City bungalow gives you the unique opportunity to stay connected to nature. Create a difference for yourself and your loved ones today!
You Might Like...
24 November, 2023

When considering where to put your money, the options are plentiful...more

26 October, 2023

D-Day has begun, where 'D' stands for Delivery! Gems City has embarked on the journey....more