Blogs
All about beautiful living
Why is a bus service a popular facility for residential living in Joka?
25 August, 2020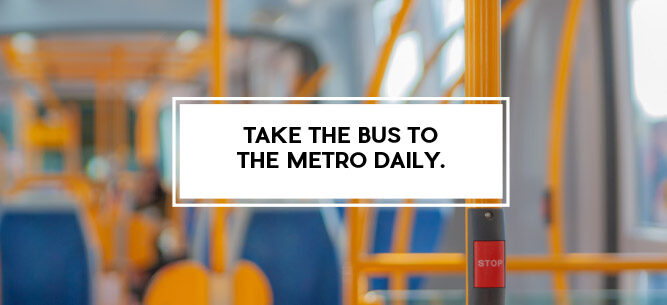 Gems City offers its residents with a dedicated bus service that connects you to the nearby metro stations of Tollygunge, Thakurpukur and Joka. It also connects to the popular nearby markets and bus stands. This exclusive service will give a hassle-free lifestyle to those living at Gems City. It will also make their daily commute easy, swift and comfortable.
As Gems City is a residential project in South Kolkata, so owing to the busy roads of the locality, a dedicated bus service makes living more convenient. This is a 'residents' only' bus service. There will always be an AC bus that will travel routinely between Gems City and the nearby primary metro stations.
Let us have a glance at some of the key features of a dedicated bus service that can be a decision-making factor while buying an apartment in a gated community:
Hassle-free commute
Residents of Gems City who are regular office-goers or traveling for any other purpose on a regular basis do not have to face the trouble of hiring any local vehicle. They do not have to wait in a long queue and face the rush of reaching their respective destination on time. Also, they do not have to worry about missing a bus or an auto and waiting desperately for the next one. Moreover, the residents do not need to travel in the crowd or fight for a seat. Since the dedicated bus service only accommodates the residents of Gems City, there is no fear of getting pickpocketed and any other fuss.
On-time conveyance
Time is a crucial factor to be maintained while being in any profession or being a student. People often face issues regarding the time when they should get going for their work. Some days the queue for auto-rickshaws or buses can be long while some days they can be shorter, leaving the passengers undecided about when to leave their homes in the morning. The dedicated bus service of Gems City swipes away this problem as there is an on-time bus service around the corner. As a result, the residents can be sure to leave their homes at a scheduled time regularly, keeping their punctuality intact.
Get quick access to any part of the city
Gem City's dedicated bus service does not only commute between metro and back but it plies all the way to Tollygunge, which is a major multi-modal center in South Kolkata. As a result, residents can easily get access to other key areas of the city and fulfill their requirements. Since South Kolkata is a highly active part of the city, traveling via public transports can cause dreadful delays. Hence, if your private car fails to serve you on a particular day, this bus service will always be there as a strong backup to maintain your punctuality.
Safe travelling for women and children
Residents of Gems City can visit various places for work, study or other professional cause in a very easy and comfortable way using the dedicated bus service. Any buyer looking for an affordable urban living in Kolkata will definitely opt for Gems City because of safety in travelling especially for women and children. Children coming back on their own from schools or tuition classes are ensured of safety because of this bus service facility. Assured safety for women is also another striking aspect that Gems City offers to its residents through this dedicated bus service system. Besides, for enhanced safety for children, there is a renowned in-campus school is Gems City. So, you do not need to send your children to faraway schools for studies.
Connectivity to prime locations
The primary destinations from Gems City are Joka, Thakurpukur and Tollygunge metro stations. Being situated at the heart of South Kolkata, Gems City's dedicated bus service can take its residents to various places in Kolkata, such as the central business district, shopping districts, the airport and the Howrah station. Children staying in Gems City can avail the opportunity of going to renowned schools around the area of Diamond Harbour Road, Behala, Tollygunge, Thakurpukur and Taratala. Not only the reputed schools but also the Gems City residents can visit their regular banks and markets by availing the bus service. This connectivity to various prime locations of Kolkata via an AC bus multiple times a day is surely a thing which becomes welcoming news for any family deciding to stay in South Kolkata.
You Might Like...
24 November, 2023

When considering where to put your money, the options are plentiful...more

26 October, 2023

D-Day has begun, where 'D' stands for Delivery! Gems City has embarked on the journey....more