Blogs
All about beautiful living
A clubhouse makes every day at Gems City an exciting experience
28 May, 2020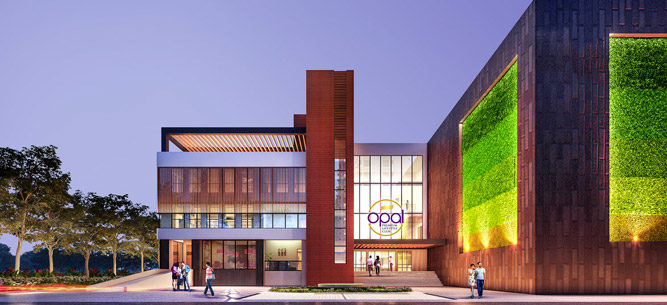 Are you still returning from office to the same old monotonous life, with nothing to do within the confines of your room? Well, you can get rid of that right now. All you need is a change in lifestyle with a clubhouse next door along with the most fundamental amenities around.
To swipe away your stress and offer you the best experience of urban living, Gems City brings to you its 40,000 sq. ft. premium lifestyle club, Opal along with its other primary amenities. The clubhouse comes with a swimming pool, library, restaurant and a beautiful open terrace zone overlooking the vast expanse and greenery of the project.
What are the most essential amenities that buyers look for before investing in real estate or while searching for apartments for sale?
Amenities in the residential projects in Kolkata come in different varieties. However, the most essential among them are playgrounds for youngsters, gym, swimming pool and a clubhouse with theatre facility. Gems City is the most popular affordable residential project in South Kolkata that has all the fundamental amenities and more to offer you a premium lifestyle.
Benefits of having a premium clubhouse within your residential community
Whether you believe it or not, there are a lot of great ways you can stay engrossed and happy at a clubhouse. Having a premium clubhouse within the premises of a community has a major impact on the mental health of its residents. Let us have a glance at some of the important benefits of having a clubhouse within your community:
Socialize with our loved ones
We Indians love to socialize whether after returning home or on weekends. A premium clubhouse is an ultimate destination where you can have all our friends, family or neighbours to gossip with altogether. After a hectic day at work, it is important to have a good time with our close ones to get relieved from stress and makes your mind set for the next day.
Ultimate recreation hub
An in-premises clubhouse within a residential complex is the ultimate recreation hub for its residents. Clubhouses generally comprise a gym, a swimming pool, indoor games and a library. But in Gems City's clubhouse, along with all these general facilities, you also get a restaurant, a theatre, and an open terrace zone overlooking the vast expanse and greenery of the project.
A place for group study
In the library of a clubhouse, school and college students can easily accommodate themselves for group study sessions. With a separate space for reading books, the residents can use the library section of a clubhouse for their children's academic purpose and also for their own library times. Elder residents, often enjoy reading books or newspapers in such beautiful libraries.
Arranging events
Some premium clubhouses like the Gems City's Opal clubhouse, there are banquet halls where you can host parties and events. It takes out the extra burden of travelling long distances while arranging for a party. Throw glorious parties to celebrate weddings, anniversaries, birthdays and family get-togethers. Opal banquets, within the campus of Gems City, give you the pleasure of making our parties memorable.
Boosts up community living
A clubhouse is a place where children and elder residents meet up with their agemates. It brings out people from a monotonous lifestyle and offers peace and entertainment. This also uplifts the mental health of the residents and encourages community living.
Wrapping up

Living in a clubhouse community does not always imply luxury. Gems City's Opal clubhouse summarizes how a happy and healthy lifestyle should be. The clubhouse is made it such a manner that it can accommodate residents belonging to all age groups.
It is an affordable residential project in Kolkata that is designed to provide you with the ultimate experience of urban living. Thus, if you are still searching for apartments for sale in Kolkata, Gems City is the best affordable option for you.
You Might Like...
24 November, 2023

When considering where to put your money, the options are plentiful...more

26 October, 2023

D-Day has begun, where 'D' stands for Delivery! Gems City has embarked on the journey....more