Blogs
All about beautiful living
Give your child a memorable childhood
21 July, 2019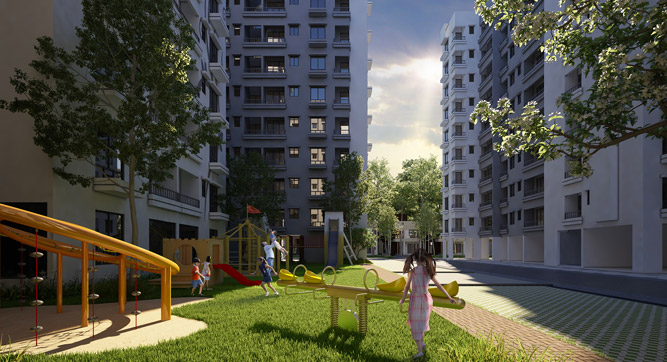 As a parent, it is essential to look after the development of your kid in all aspects of cognitive, social, emotional and physical growth. The new urban Indian lifestyle is fast-paced and biased toward academics; further, most residential areas are not designed with ample open spaces and parks. The result is that most children are not playing outside much, and parents are always worried about that.
To address this problem, the best developers take care to provide playgrounds, parks and a lot of open space for your children to play in. Every parent wants to give their child an environment that develops both physical and mental faculties; this requires proper educational as well as equal attention to physical sports. The developers of Gems City want your child to have a memorable childhood – so we have more than 65% green space and even a world-class school in our premises – GEMS Akademia International School.
The developers of Gems city know that you want your child to play freely; and so we invested in the large, open play areas inside the campus. You can emphasize physical activity, let your child discover the outdoors and not be worried your child will spend all his / her time on the mobile or computer. Another challenge about play areas is the safety of children; parents are often worried about the security of their kids. At Gems City near Joka, parents will have one less thing to worry about. Having options for different play areas inside the campus guarantees the safety and protection of your child.
Gems city is perfect for people starting a new family, it has a variety of flats to offer you in a wonderful environment, and there are options that you may choose from as per your requirement. Gems city has 1,2 & 3 BHK Apartments, near Thakurpukur. This upcoming residential project in South Kolkata promises the most affordable and convenient lifestyle with all the amenities and facilities you need.
Gems city is designed keeping in mind the idea of a healthy lifestyle and in order to assure a healthy childhood for the children, it also has multiple playgrounds, play areas, magnificent parks, and gardens. This new residential project near Joka metro station will provide the most convenient, easy-going and beautiful lifestyle you could wish for.
You Might Like...
24 November, 2023

When considering where to put your money, the options are plentiful...more

26 October, 2023

D-Day has begun, where 'D' stands for Delivery! Gems City has embarked on the journey....more