Blogs
All about beautiful living
Host your guests comfortably at Gems City's guest rooms
21 October, 2019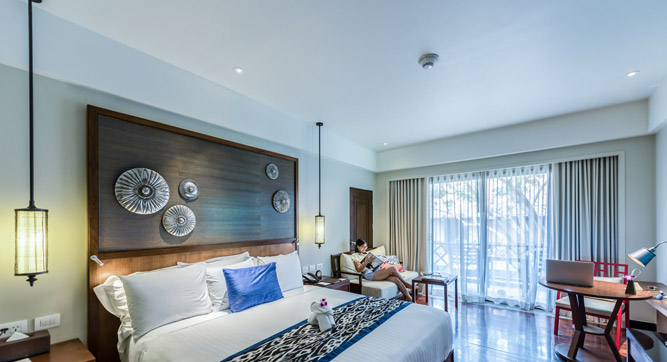 We Indians treat our guests nothing less than our Gods and Goddesses. This is why we do our best to keep them comfortable after they arrive. But only the hosts know how harrowing it can get if they do not have a proper setup ready to welcome their guests.
Many of us have our guest rooms ready for arrival of any unanticipated guests. Some of us who do not own a guest house adjust ourselves within the limited area of our apartment for the sake of hospitality.
All of these discomforts can be evaded only if we have a guest house that comes with no maintenance. Sounds like something impossible, right? Well, the Gems Developer Group brings to you the most affordable and innovative township project in Kolkata. It has a provision of keeping your guests safe and comfortable within your proximity. There are various perks of having such guest rooms to treat your guests anytime in the year.
Zero maintenance
As a part of the most affordable residential project in Kolkata, Gems City's guest house is available to treat your guests whenever needed. Owning a nearby guest house is one thing but having it well maintained is a humongous task. Now, neither you have to spend a huge sum of money to own a guest house nor allocate a budget for its maintenance. All thanks to the guests rooms in Gems City.
No compromise
In ordinary apartments, due to limitation of space, we need to compromise on our comfort in order to welcome our guests. Even then the guests start feeling awkward. Thus, having a separate space for the guests is always an added advantage that comes in without saying in Gems City.
Always ready and available
Even after owning luxurious guest houses, many of us struggle to get the place in shape before our guests arrive. The situation aggravates if there is an unanticipated visit. With the guest rooms in Gems city, there is no chance of keeping your guests wait for you to make the rooms ready. Now your close ones can pleasantly surprise you with a visit.
Within the reach
Generally owning a guest house means having a place far away from your house. Due to which it creates a lot of hassle in treating the guests with hospitality. In Gems City, the guest rooms not only come with zero maintenance but with the proximity advantage. You can have your visitors stay close to you so that you do not have to travel far to have good times with them during their stay at your place.
Healthy living
The guest rooms in Gems City are designed in such a way so they can be accommodated without worrying the number of guests. Your visitors get to experience 50 acres of beautiful living with access to all the special amenities in the community. Moreover, there is something or the other special thing to do for people belonging to different age groups.
Comfortable stay
Your guests also get to stay with you freely and comfortably in these guests rooms. They do not feel awkward while staying in the guest rooms while enjoying their stay with you. Right from playgrounds to swimming pools and movie theatres, Gems City is a package of entertainment and fun for you and your visitors.
Reduced burden
Many of us get extremely bewildered by sudden visits from our close ones. Worse, if they stay with you for long. The most important reason for having such guest rooms is that it takes away the stress of keeping the visitors happy and content. You do not need to prepare yourself either physically or mentally to make your guests stay for a few days.
Apart from the guest rooms, Gems City is a destination within itself for your guests. Besides, there are facilities of multiple banquet halls with a capacity of 1500 guests for special ceremonies and family get-togethers. So why buy a costly guest house when you can have one for free? Experience the true beauty of urban living along with your guests in Gems City. Make the stay of your guests memorable.
You Might Like...
24 November, 2023

When considering where to put your money, the options are plentiful...more

26 October, 2023

D-Day has begun, where 'D' stands for Delivery! Gems City has embarked on the journey....more