Blogs
All about beautiful living
Gems Group: Changing the Face of Joka
25 September, 2023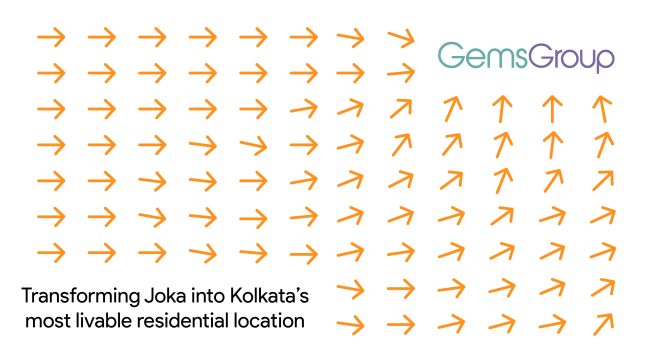 In the bustling city of Kolkata, the once-sleepy suburb of Joka is experiencing a transformation like never before, all thanks to the unwavering commitment of one business entity – the Gems Group. With its vision set on holistic development, the Gems Group has embarked on a journey to turn Joka into a thriving and self-sufficient region. Through a diverse portfolio of projects, including a school, a residential township, a bungalow township, a senior living complex, and an array of upcoming businesses, the Gems Group is leading the charge in revitalising Joka and turning it into a promising destination for a better tomorrow.
A Foundation for Learning Excellence
At the heart of Gems Group's commitment lies its focus on education. The group's school in Joka, Gems Akademia International School, serves as a foundation for learning excellence, providing young impressionable minds of the region and beyond, with quality education and a nurturing environment. A college too is on the cards in the foreseeable future.
By investing in education,Gems Group aims to empower the youth and prepare them for a bright future.
A Township for Modern Living
Gems Group's residential township for 'beautiful living' in Joka, Gems City, is a testament to its dedication to enhancing the living standards of the local community. These thoughtfully designed and sustainable residences offer a perfect blend of modern amenities and natural surroundings, making it an ideal choice for families seeking a harmonious lifestyle away from the city's chaos.
Independent Bungalow Life
Gems Bougainvillas, the prestigious residential bungalow project of Gems Group in Joka, stands as a testament to the group's commitment to providing luxurious and serene living spaces to bungalow lovers. Strategically located adjacent to the Gems City campus, this exclusive enclave comprises 12 different types of 'lovable bungalows' each thoughtfully designed to cater to varying preferences and needs.
With lush gardens, well-maintained lawns, and spacious terraces, every bungalow offers an oasis of tranquillity away from the bustle of city life.
Ushering Green Tomorrows
In its pursuit of creating a sustainable ecosystem, the Gems Group envisions a greener Joka. With agro plantations and dairy farms, the group wishes to promote agricultural practices and responsible farming to support local livelihoods, and contribute to a greener environment. These efforts will not only bring fresh produce to the local residents but also foster a sense of community and nurture.
Serenity for Seniority
Recognizing the importance of dignified living for seniors, Gems Group has planned a variety of apartments for seniors in a complex called Senior Estate, within the Gems City campus in Joka. These thoughtfully intended living spaces – with senior-centric interiors and 'assisted' amenities – offer the elderly a peaceful and secure environment where they can lead fulfilling lives during their golden years. This project showcases Gems Group's commitment to nurturing every juncture of life within the community.
Unleashing the Potential
The Gems Group's vision for Joka extends far beyond its current accomplishments. With an ambitious outlook, the group has planned upcoming ventures, including a college, hospital, shopping mall, and more. These projects are set to unlock new opportunities, create employment, and fuel economic growth in the region, making Joka a self-sustained hub for education, healthcare, and entertainment.
A Joka Transformed
The Gems Group's sustained dedication to Joka's development is nothing short of transformative. Through a diversified portfolio of projects, the group aims to make impressive advances in reshaping the face of Joka. By envisioning a self-sufficient region, Gems Group has not only created modern living spaces but also fostered a sense of community and inclusivity.
As the front-runner in Joka's transformation, the Gems Group is paving the way for a promising future, where residents can lead fulfilling lives in a sustainable and progressive environment.
You Might Like...
24 November, 2023

When considering where to put your money, the options are plentiful...more

26 October, 2023

D-Day has begun, where 'D' stands for Delivery! Gems City has embarked on the journey....more