Blogs
All about beautiful living
The Joka-Majerhat Metro Work Resumes as it Arouses More Demand for Properties in the Area
7 February, 2021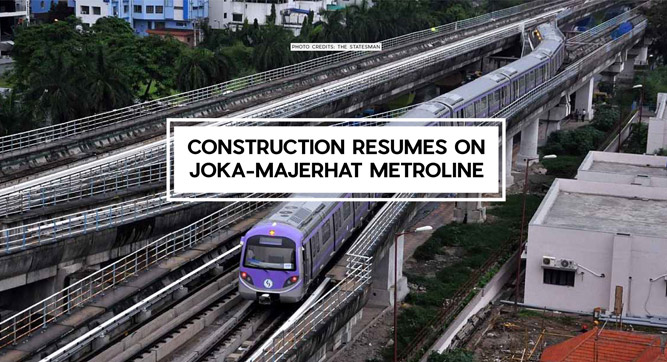 Joka has been one of the key locations for residential development in Kolkata, with a rising demand for residential properties due to its growing development. In addition to it, the resumption of the Joka-Majerhat Metro Project work puts the cherry on the cake. Several developers like the Gems Group are eyeing Joka to establish it as the perfect residential community in the city.
Diving into the depth of Joka-Majerhat Metro
The Joka-Majerhat Metro is an integral part of the Kolkata Metro Line 3 that stretches from Joka in the south to Esplanade in the north for about 14.215 km. Furthermore, there is an extension of 2 km from Joka to Diamond Park.
Ever since the Majerhat Bridge collapsed in September 2018, the work of this metro station was halted. It was just in the last quarter of 2020 that the metro project got resumed and has taken its toll towards development. The agency that is responsible for the entire project, Rail Vikas Nigam Ltd (RVNL) has commenced building the underground corridor section of about 5.5 km. Besides, in December 2020, a crucial girder launched to boost up the metro station work at Majerhat. This momentum assures to meet up the new deadline of running the service on the 6.5 Km stretch which is Phase 1 of the metro corridor from Joka to Taratala by December this year. This 6.5 Km stretch from Joka to Taratala is being made steadily as RVNL is giving finishing touches to the six stations across the line – Joka, Thakurpukur, Sakherbazar, Behala Chowrasta, Behala Bazar and Taratala.
Joka – Offering the best residential option in South Kolkata
Judging by the current rate of development, Joka is emerging as one of the best residential places in the city. Availability of ready-to-move apartments and affordable housing projects have made Joka the most desired place to invest in real estate properties. For an instance, Gems City offers all the necessary amenities within the budget and daily commute facilities for its residents till the Joka and Tollygunge metro stations. Gems City sets its mark in the affordable housing section that provides excellent connectivity and commuting options with other necessary amenities. The residential project of Gems City offers its residents an exclusive bus service that takes the responsibility to drop and pick you up to and from the metro stations. As a result, the project has experienced a record in its sales in terms of numbers in 2020, even when the pandemic was at its peak. Its easy financial process and risk-free site visits have enabled homebuyers to experience hassle-free possessions of their respective apartment or bungalow.
Hence, by considering the state of development, Joka coupled up with the residential project of Gems City fulfil all your requirements for a beautiful living with your family. This makes it a 'now or never' chance for the homebuyers who what to live in peace buy with convenience in South Kolkata.
You Might Like...
24 November, 2023

When considering where to put your money, the options are plentiful...more

26 October, 2023

D-Day has begun, where 'D' stands for Delivery! Gems City has embarked on the journey....more