Blogs
All about beautiful living
Is Joka Metro on its way to start by September 2021?
15 August, 2020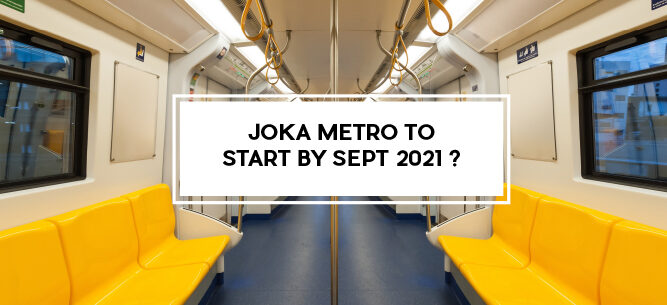 People who are seeking for convenient living in or around South Kolkata will definitely opt for a place with better conveyance facilities. Here is why Gems City becomes a favourable option on their bucket list. The commencement of the Joka Metro, within the vicinity of Gems City by September 2021 makes it more appealing to home seekers.
The Joka-Esplanade metro is going to be India's first metro that will be running on indigenous rails rather than imported ones like the Kolkata Metros we know till date. The first lot of the rails has reached Joka depot already. Never before, India has produced these head hardened (HH) rails that can run trains with a speed over 250 kmph. They can also sustain heavy traffic of loads on the metro rail.
These indigenous metro rails have been improvised with 1080 grade HH rails that can bear additional head treatment. So far, Indian metro rails were imported from Japan and Europe, incurring huge expenses. However, this time, our country is manufacturing its own rails to be established around South Kolkata, making Gems City a desirable spot of residence.
Rail Vikas Nigam Limited (RVNL) has become the first company to place an order with Jindal Steel & Power Ltd (JSPL) which is the executive agency of the Joka-Esplanade metro. It works in direct accordance with the railway board's policy of indigenization. This has proved to be enlightening as other than saving our foreign exchange resources, it is generating surplus employment and encouraging other steel manufacturers to approach with world-class rails.
The entire process of establishing these indigenous rails is inspected, examined, and vetted by different railway organizations including Research Design and Standard Organization (RDSO) and Rail India Technical and Economic Service (RITES).
The vicinity of Gems City is acquiring high demand for the undergoing construction of the Joka-Esplanade metro. Moreover, there is a dedicated bus service exclusively offered to the residents of Gems City to carry them to and from the nearby metro stations in South Kolkata. This makes it one of the most desirable residential projects in South Kolkata.
These indigenous rails are based on ballast-less technology that will facilitate a high-speed movement of the train even if it has accommodated a large number of passengers or heavy loads. This is another added advantage for the Gems City residents as by boarding these trains they can reach their destinations in a much shorter span of time, unlike other ordinary metros. Moreover, unlike any other metro rail projects in the country, this is not a state but Center-funded project due to which none of the expected risk factors is getting unnoticed. This will not only reduce the chances of derailment but also ensure trust and safety while traveling in the heart of the localities.
Around 80% of Joka's land has been granted the possession of establishing this metro rail as per RVNL. Once the depot's infrastructure is ready and the machinery of the rolling racks are installed, this mode of conveyance is expected to break the record of time taken in traveling to any part of the city.
For the above-stated reasons, Gems City becomes a hotspot location in South Kolkata and much more demanding as a spot of residence. Nowadays, where everything and anything is available just a click away, people always desire to have that momentum in life while traveling. We are always in a hurry and racing against time. This is where the Joka-Esplanade metro plays a significant role to take the passengers to any corner of the city in time, either directly or indirectly. Hence, this would be the right time to buy an apartment in Gems City, let alone in Joka as the prices of these properties will rise after the metro rails start operating.
You Might Like...
24 November, 2023

When considering where to put your money, the options are plentiful...more

26 October, 2023

D-Day has begun, where 'D' stands for Delivery! Gems City has embarked on the journey....more