Blogs
All about beautiful living
Make your dream house a reality – Gems City, Kolkata
13 October, 2019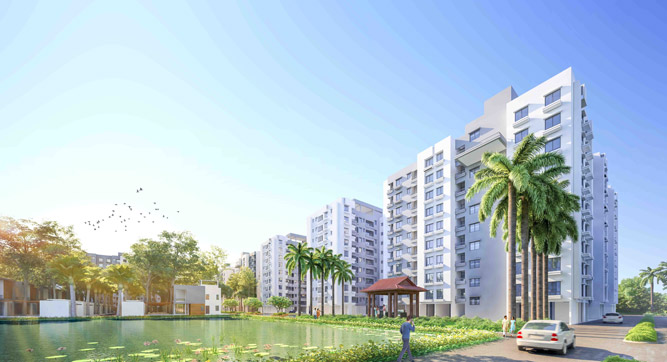 A home is a lot more than just a place to fit in for survival. It is incomplete without the perfect blend of love and amenities. All you need is a secured home with facilities that not only take care of your child's development but also your daily requirements and entertainment needs; a place that gives you and your family an all-in-one package for a healthy living.
Now, the grave challenge of having such a home in the City of Joy is due to the shrinkage for development spaces in the mainland of Kolkata. As a result, either you do not get a house to meet all your requirements or you do not get everything in your budget. For this reason, Gems Group bring to you the most affordable dream residential project near Joka and Thakurpukur to meet all your needs and more.
From schools to healthcare facilities, from football / cricket grounds to basketball courts, there are 50 reasons why it is the most sought after community project in Kolkata.
Apart from these, there are various reasons why you should give up living in your apartment in the crowded city and shift to the openness of Gems City, near Thakurpukur as per your budget.
Secured living
Security is the most fundamental factor that every family seeks. No matter how popular your locality is, no house can be made as secured as an apartment in a large gated community. It has become a major concern for working parents to keep their children safe at home nowadays.
Gems Group bring to you a place with 24×7 gated security with CCTV. The entire system will be monitored and maintained by professional security team who will always be there at your service. Thus, unlike a stand-alone apartment without any security, your family will be safe and secure throughout the day.
Child safety and development
Whem both you and your spouse are working, you need to face tough challenges regarding your child's safety and upbringing – especially if you don't have in-laws living with you. We all know that how difficult it can be to work with a free mind at office while keeping your child with someone else.
For working parents, Gems City is a boon as it has a well-structured crèche facility to keep children safe and active. They can now have their children in a safe and playful environment while dealing with their work at office freely. It also has lawns and parks for your children to grow without any boundaries.
Education and Learning
As parents, we all know how fundamental education is for everyone. With increasing competition, students are running in all directions to gather education from tuitions, schools, colleges and various institutes. In the process of doing so, they end up exhausting a lot of energy unnecessarily.
In order to keep the education factor in mind, Gems Group presents – GEMS Akademia International School to shape up your child's future. The GEMS Akademia International School is a 20-acre campus, having classes from Nursery to 12. It is accredited under CISCE board. Most importantly, it is within the premises of Gems City. Now your child does not have to travel miles to and from the school and tuitions.
The school will also run tuition classes for students from other schools – a service extended to only the residents of Gems City.
Improved Lifestyle
A dream house is not a dream house if it fails to present you an improved lifestyle. A stand-alone house can never match up to the lifestyle we are talking about here. Right from the touch of nature with fitness activities to club houses, a community living in a complex like this can really make you feel in paradise.
There is an endless list of can be done activities in the world of Gems City. From having a 40,000 sq. ft. premium lifestyle club to swimming pools, cricket / football grounds, golf and tennis courts, AC community theatre and a lot more, Gems City is a popular residential project in South Kolkata. It also has multi-convenience stores to cater to your grocery requirements. Everything in one place really makes every day easy and truly fulfilling.
To cut down maintenance
The painful side of having an ancestral house or an old apartment comes with its maintenance cost. Leakages in the ceiling, dampening walls, blockages in the pipeline and drainage system are some of the regular challenges faced here. Now issues like these do not get sorted quickly in apartments due to reasons like disassociations of individual flat owners.
For this reason, people search for a home that comes with low maintenance and have 27×7 accesses to plumbers, electricians, carpenters, fitters and so on. Gems City Kolkata, bring to you a project that has domestic help ready for you whenever you need them. And most importantly, the monthly maintenance cost per family is very low.
High on nostalgia, not on returns
As a house grows older, its value diminishes no matter how strong the nostalgia is associated with the place. Trying to sell an old house can be really tedious. Even now many people tend to buy a stand-alone house in emotion which they regret later on. After a decade or so, the maintenance touches the sky and its value curtails.
In order to avoid such dreadful situations, community living is the key. Besides, having a community apartment owned in a place like Joka can be one of the best decisions you will ever make. Located in the south west of Kolkata, Joka is one of the fastest growing real estate areas in the entire city. Whether you own a 1BHK or a Bungalow in Joka, it will be really high on return in a matter of just one decade.
Wrapping up
The best part is, all of the above come to you at the most affordable price – Gems City Joka, is the most affordable residential project in the country with so much to give. It has admirable apartments starting just @ 11 lac and beautiful bungalows starting @ 45 lac only.
So, what are you waiting for? Go ahead and turn your dream house into reality. It is now or never!
You Might Like...
24 November, 2023

When considering where to put your money, the options are plentiful...more

26 October, 2023

D-Day has begun, where 'D' stands for Delivery! Gems City has embarked on the journey....more