Blogs
All about beautiful living
Move away from clutter, find convenience at Gems City
28 December, 2019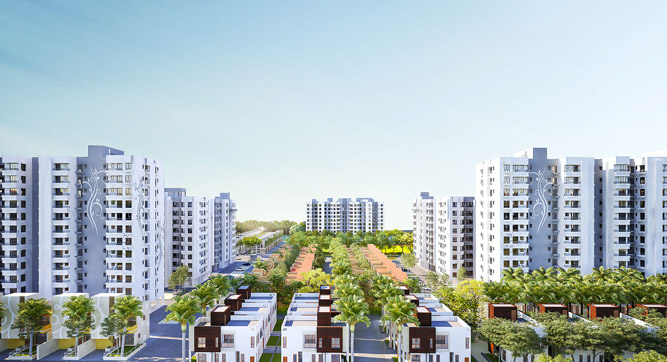 Life in an urban landscape as in South Kolkata, especially around areas of Behala, Dhakuria, Thakurpukur, Tollygunge and so on is getting more cramped and stuffed every year, which negatively affects the standard of living. Finding good quality civic amenities, proper accommodation, hassle-free traffic and other needful services are now becoming a challenge in the crowd and clutter of these areas. Life gets tougher when one has to reach school, college or even to an office amidst chaotic traffic. The search for a good school or college nearby is also another big challenge. Added to this, unavailability of plumbers, electrician, and doctors in time is another grave challenge for residents living in unplanned residential areas like Behala, Tollygunge etc. Gems City, as a large residential project near Joka Metro, beats all these negativities.
Gems City is an apartment living and bungalows project in Kolkata that covers a lot more than just the basic needs of a residential lifestyle in the budget. Under its umbrella, one can easily avail low budget 1 or 2 or 3BHK flats in Kolkata.
There are numerous reasons how the quality of simple standards of living can be raised around residential project in South Kolkata. Gems City offers the kind of the lifestyle that makes every day living truly beautiful.
Better Convenience
Multiple convenience stores, availability of carpenter, gardener, plumber, electrician, bank and ATM and many other necessities of daily life are just a call away at your home in Gems City. There are proper garbage disposal areas, intercom connectivity, a hygienic sewage treatment plant, an outlet selling unadulterated fruits, vegetables and dairy items, well-maintained elevators and stretcher-lifts, well-lit internal roads, adequate parking slots, 24X7 water supply and round the clock security with CCTV surveillance. Most importantly the doctor/dietician on call and laundry service facilities are also available so that in times of need, you can rely on your immediate surroundings.
Hassle-free Conveyance / Easy Transport
Gems City offers the advantage of a dedicated bus service to Thakurpukur, Tollygunge and Joka Metro stations for its residents. This will prove to be an important asset to all residents of Gems City since it directly links them to the rest of city with the metro service, which is soon to commence. The bus service also connects us to the nearby markets and other bus stands. This maintains a perfect balance between accessibility and a working lifestyle. Besides, proper infrastructure and wide roads in Joka lets the smooth flow of traffic in the area which saves a lot of time while travelling.
In-campus School Facility
20 acres of this vast residential project in Joka is dedicated to GEMS Akademia International School. What makes it one of the most sought after school in South Kolkata is its nursery to class XII schooling facility along with a day boarding programme. Under CISCE affiliation, GEMS Akademia International School is the pride of Gems City. Additionally, other extraordinary facilities such as provision for games and playhouses for kids make it even more attractive. Now, families living in Gems City can not only enjoy a tranquil lifestyle but also aspire for better career growth for their children.
Serene and Healthy Surrounding
Affordable urban living with almost 65% lush greenery is nowhere in South Kolkata, other than in Gems City. There is a central lawn for organizing festivals and an AC community theatre that boast communication across the society and nourishes a good and healthy society bonding. People of any age group get subjected to meditation and yoga in various sections. Along with this, there is AC multi-gym with steam rooms, guest rooms, open cafeteria and a fascinating library. Young residents can rejuvenate themselves in the Football-cum-cricket ground, basketball and tennis courts and in the exclusive adda zones. Last but not the least, there is on-call ambulance service along with a nearby pharmacy.
Is Planned Location for Better Connectivity
Other than being the most spacious and affordable residential project, Gems City is well connected to several vital spots of the area nearby. Joka is one of Kolkata's upcoming residential hubs, with many projects currently under way. Near Gems City, there are several convenient points such as Thakurpukur market and police station, ESI hospital, Bharat Seva Sangha, Sakher Bazar, Swami Narayan Temple, Joka and Thakurpukur Metro Stations. These nearby core points make living more convenient in South Kolkata.
Wrapping Up
Spread over a large green landscape, Gems City is designed with all your needs in mind. It is a place where people dream of living in a far off pollution-free residential location. With all necessary facilities and amenities, this bungalow and residential project in Kolkata, that too with low-budget flats in South Kolkata is none other than all you want. To buy a flat in South Kolkata, one can positively reach out for Gems City.
Finally, people of South Kolkata can escape from the city's congestion and stay somewhere with all attractive facilities, that too without migrating off the city.
You Might Like...
24 November, 2023

When considering where to put your money, the options are plentiful...more

26 October, 2023

D-Day has begun, where 'D' stands for Delivery! Gems City has embarked on the journey....more