Blogs
All about beautiful living
Gems City Offers You Safe and Hygienic Property Site Visits
12 December, 2020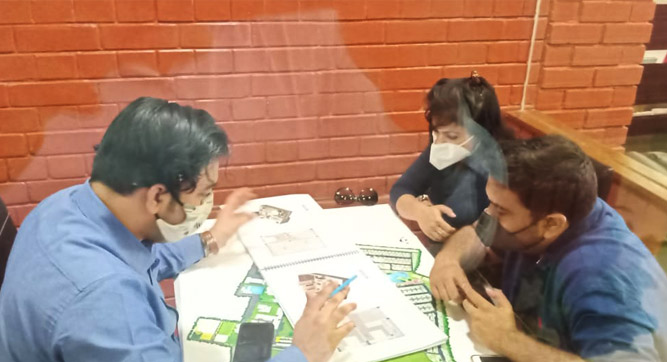 People who are looking to buy a property are facing a dilemma regarding property site visits amidst the pandemic. The back-to-back lockdowns had made site visits and real estate purchases almost impossible. The situation has now changed and there is a need to bring things back to normal.
During the new normal, safety and hygiene are of the highest priorities while being outdoors. Hence, the real estate advisors of Gems City have been putting their best efforts to ensure that their clients are served with utmost diligence by maintaining all the necessary safety measures.
Let us have a look at some of the key points on how Gems City has real estate property purchases easier for you:
Following the Health Department guidelines
All the mandatory Health Department guidelines are followed by the Gems City real estate advisors. The site managers are along with other employees who are properly trained and are equipped with the necessary gear and knowledge. They approach every prospective home buyer by maintaining physical distancing and timely sanitization.
Sanitization at regular intervals
All the surfaces are sanitized and disinfected at regular intervals in order to maintain cleanliness and to get rid of any harmful germs. The Gems group makes sure that the site is never over-crowded and each corner is properly sanitized after each demonstration. The site managers and the real estate advisors always greet every visitor with care and security.
Private Pickup and Drop-off
This is one of the most highlighting facilities that are required during the new normal – a sanitized car for private pickup and drop-off. During the weekdays, a sanitized and disinfected car is sent to the visitors' homes for pick up. The same car is sanitized and disinfected again for drop-off back to their homes. However on weekends, due to lesser staff, sanitized cars are sent to the Tollygunge metro station for pick up and drop off.
Safety measure at the entry point
Thermal screening is always done at the entrance during the new normal to ensure visitor's safety. There is a limit to the number of visitors allowed at the site at any given point of time and the sales staff are scheduling site visits to ensure there is no overlap. The office is also sanitized at regular intervals with not more than 10% of staff attendance every day. The site managers will also ensure that there are minimum things on display, so as to avoid unnecessary handling of things and their cleaning at regular intervals.
Online site tour and video conferencing
Gems city is also offering many customers with virtual site tour online and discussion over video conference. This takes out frequent physical interaction along with chances of getting infected during the pandemic. This is the most convenient way of property site visits by keeping the interaction short and simple. Discussions and negotiations are done conveniently over video calls.
Professional advise
The pandemic experts associated with real estate properties in Kolkata, advise home buyers to carry as few things as possible during a site visit. They also advise avoiding taking children and senior members of their family during their visit to the site.
Wrapping up
At Gems City, you get to choose your property amongst the most in-demand affordable housing in South Kolkata without any fear of getting infected during the pandemic. Our skilled and trained property staffs are always there to serve each visitor with care and safety precautions. It is about time to overcome your fears and embrace the new normal to own your dream home.
You Might Like...
24 November, 2023

When considering where to put your money, the options are plentiful...more

26 October, 2023

D-Day has begun, where 'D' stands for Delivery! Gems City has embarked on the journey....more